BUSINESS UPDATE – PLEASE READ
Please note that for the foreseeable future we are unable to accept party bookings for venues outside of our Play Centre.
Brickies LEGO® Building Birthday Parties
Brickies birthday parties offer an unforgettable experience for any LEGO® loving child….. or adult!
At Brickies our service is simple. We deliver awesome brick building parties, using LEGO® elements. Every 90 minute LEGO Building Party is carefully storyboarded to create an immersive experience for the children to build along to.
We start with an engaging story supported with photo slides, and provide the children with building challenges that are linked into the story. There are no instructions to follow, as we promote imagination and creativity. A Brickies Party Host will be on hand throughout to provide support in the form of ideas/suggestions for the builds and bundles of positive re-enforcement to ensure all children are continuously engaged.
We tailor the theme of the party to the interests of the birthday child, delivering building challenges based around the chosen theme and connected by a story. We have special party themes available covering all of LEGO's most popular brands including LEGO® CITY, Star Wars, Ninjago, Minecraft, Superheroes, Harry Potter, Mario and LEGO® Friends. Plus we have many other custom themes including Pokemon, Dinosaurs, Space, Pirates, Underwater Adventures, Safari, Wacky Races, Crazy Construction and lots more.

As well as all that, every party includes a Brickies Birthday Gift Box for birthday child (inc Brickies T-Shirt, Badge and Brickies Master Builder Lanyard), and all the guests will also receive a Brickies Badge too.
Please Note: The minimum birthday age for our LEGO Building parties is 5 years old, with guests being at least 4-and-in-school.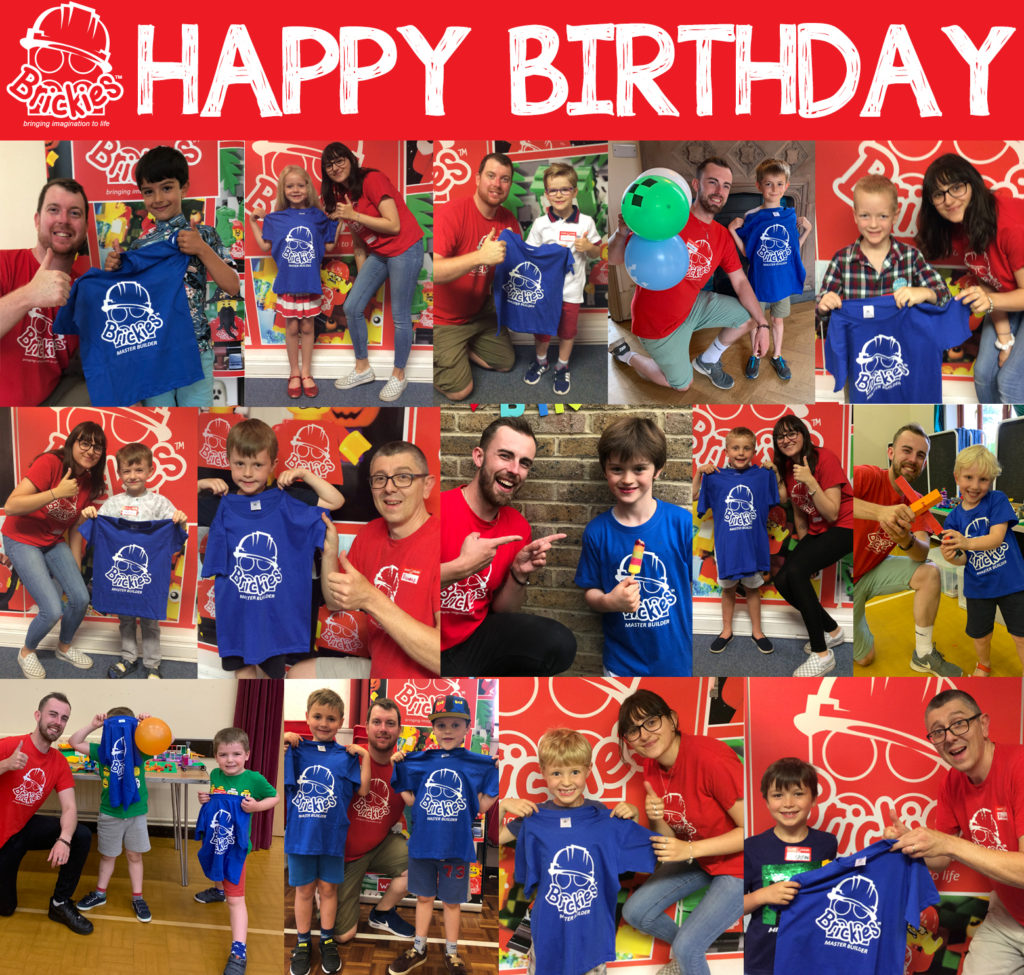 Brickies Building Birthday Party Format
90 Minute Story Themed Workshop delivering in private party pod

Brickies Dedicated Party Host

Access to thousands of LEGO bricks and use of minifigures

Building Theme Chosen By Birthday Child

Brickies Gift Box For Birthday Child

Brickies Badge For All Participating Children

Brickies Themed Digital Birthday Party Invitations

Min. Birthday Age: 5 Years Old – Max. Age: You're Never Too Old For LEGO
Brickies Building Birthday Party Options
Wokingham Play Centre LEGO Building Party
LEGO building party for up to 10 participants = £125
LEGO building party for up to 16 participants = £185
Exclusive Hire party for up to 30 participants = £300
A deposit of £25 will be required to confirm a birthday party booking.
Looking for a different type of LEGO party? Click here for more options.
Please Note: Food is not included in the above packages. We do not have a dedicated area for party food at our Wokingham Play Centre, but we do partner with our neighbours The Chocolate Cafe who offer various priced party food packages. You can contact The Chocolate Café on 0118 979 5125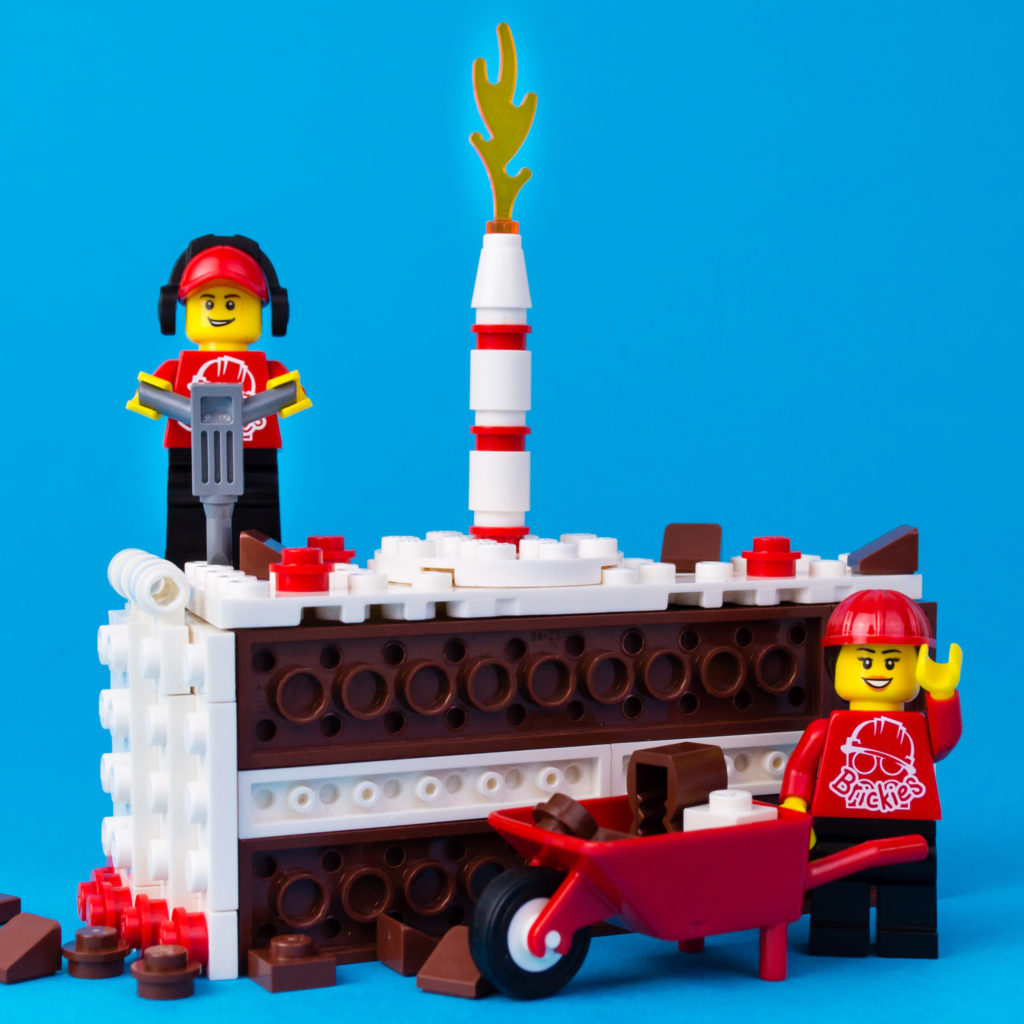 I was blown away by our Brickies birthday party. Ben kept 15 five-and-six-year-olds 100% entertained for 90 minutes. Not one of them got distracted or misbehaved; they were totally absorbed. The whole process was professional, courteous and thoughtful. I thoroughly recommend it. Thank you guys.
We held our son's 6th Birthday party at Brickies today and it was fabulous. The party was so well organised and well run by Richard. He had all 18 children fully engaged with the activities and ensured that they understood the challenges and made it relevant to the Ninjago theme our son had chosen. It was so easy for us as we weren't needed to do anything. Would definitely recommend and if my son has his way we'll be back very soon!
Many thanks to the whole Brickies crew for making my son Jude's 6th birthday awesome! The venue is well prepared and looked after, the children were well taken care of and they all really got involved with the themed tasks & builds. Can not recommend enough. Thanks again!!
Brickies did our son's 6th birthday party with about 16 kids. Really excellent party – the kids loved it and got really into the Star Wars theme – even the ones not as mad about Lego's as our son. Really recommended.
Great party at Brickies today. My daughter had fab time for her 7th birthday and declared it 'the best party ever'. All her friends also had a great time! All the staff were friendly and welcoming and Sam excelled as the party host. The kids love the 'mission room' with the giant cushions. Booking was also really easy – quick responses and clear information whilst the choice of themes was extensive. Would definitely recommend!
We've just had an excellent 8th birthday party in our village hall for my son. The booking process was easy, they gave an excellent choice of themes, and kept me informed about who would be our party host (Jamie). He arrived in good time and set the party up with no fuss. The 17 boys were captivated by the whole party and were so attentive! It was such an easy party and I can't recommend them highly enough.
Birthday Party Enquiry Form…