BUSINESS UPDATE – PLEASE READ
Please note that for the foreseeable future we are unable to accept party bookings for venues outside of our Play Centre.
Brickies LEGO® Movie Maker Birthday Parties
Brickies birthday parties offer an unforgettable experience for any LEGO® loving child….. or adult!
A Brickies Movie Maker birthday party is an extra special, unforgettable experience. Over the course of the two hour workshop we reveal the secrets behind the magic of stop-motion movies. We provide all the equipment and materials needed; iPad Minis, backdrops, minifigures, props and, of course, thousands of LEGO bricks to build with.
At the end of the party the creations will be played back on the big screen for all to see, and then we'll upload them to our YouTube Channel so they can be shared at home.
As well as all that, every party includes a Brickies Birthday Gift Box for birthday child (inc Brickies T-Shirt, Badge and Brickies Master Builder Lanyard), and all the guests will also receive a Brickies Badge too.
Please Note: The minimum birthday age for our Movie Maker party is 8 years old, with guests being at least 7 years old, and the workshop is for a maximum of 10 participants.
Brickies Movie Maker Birthday Party Format
Two Hour LEGO Stop Motion Movie Making Workshop

All Equipment + Materials Provided, iPad Minis Used For Recording Movies

Brickies Party Host And Use Of Dedicated Party Pod

Brickies Gift Box for Birthday Child

Brickies Club Badge For All Participating Children

Brickies Themed Digital Birthday Party Invitations

Maximum 10 Participants [Minimum birthday age 8 years old]

All Movies Made Uploaded To Our YouTube Channel
Wokingham Play Centre LEGO Movie Maker Party
LEGO Movie Maker Party for up to 10 participants: £200
A deposit of £25 will be required to confirm a birthday party booking.
Please Note: We do not have a dedicated area for party food at our Wokingham Play Centre, but we do partner with our neighbours The Chocolate Cafe who offer various priced party food packages. You can contact The Chocolate Café on 0118 979 5125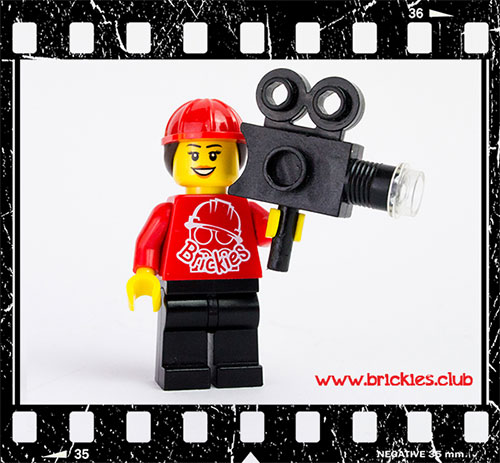 Many thanks for hosting the most amazing Brickies party for my 7 year old yesterday. It was so well organised and the kids were engaged and entertained and didn't want it to end. Can't recommend highly enough!
From first enquiry through to the party day itself, Brickies have been absolutely amazing! Jamie was fantastic at engaging the children. The party was great fun, no boredom or running around. Every child joined in and made some awesome creations!!!! Thank you so much!!! Thoroughly recommend Brickies for any Lego mad child.
Brilliant party company!! Fantastic staff, both while booking and organising the party, and the staff that run the party on the day. It was all made so easy and the party went down so well with all the kids. They had a great time and were kept engaged the whole time. Great value for money and highly recommended!
Just had my sons 9th birthday party! I've never run such an easy party, the children were all totally absorbed throughout the whole session, and produced some fantastic videos. Look forward to seeing them on You Tube. Thank you so much to Ben; made the whole event really effortless and already had such positive feedback from other parents of the party-goers!
We have just waved good bye to Ben, who skilfully managed nine eight year old boys for two hours. Working in groups of three they made their own models and created a short "movie". All nine boys were captivated throughout. A huge thank you to Brickies for the best party.
Thank you for an awesome day today, all the kids had great fun. Highly recommend these guys for any Lego enthusiasts out there! We did the stop motion animation Lego party for 7 year olds and it was spot on! Can't wait to see the final cut online, the kids can't wait to show off their masterpieces!
Recent Brickies Movie Maker Party Creations…
Birthday Party Enquiry Form…
COVID-19 What We Are Doing :
We have redesigned our Play Centre to create private Play Pods for parties to build safely away from others.

Each Play Pod has more LEGO bricks than you can build with and comes with a 40″ TV to view all our exciting missions

.

All LEGO bricks, equipment and surfaces within the Play Pod are fully sanitised before and after the party.

Your party host will attend to all your building needs without entering the Play Pod. All staff will be wearing visors.

Hand sanitiser is available for all guests upon entering and exiting our centre.

Customer safety is prioritised but the fun isn't compromised!