January 2021 has been a busy one for LEGO news, what seemed like a continuous conveyor belt of big set releases by LEGO in 2020 shows no signs of letting up in 2021. Which is great news for LEGO fans the world over but not so great for our bank accounts! I am sure the ongoing global pandemic has impacted LEGO in some way but it evident that they have benefited from more people staying at home. It would be interesting to measure the number of new customers or lapsed customers LEGO has been able to bring in as a result of this. Pandemic or not the 'Adults Welcome' theme from a consumer perspective has been a big win. LEGO sets that appeal to adults are not anything new but the introduction of the 'Adults Welcome' theme has been a clear statement of acknowledgement for adult fans of LEGO [AFOLs]. A statement that has been reciprocated in the volume of sales. Although I don't know the exact number I am pretty sure the theme has done extremely well.
So what has January brought to the 'Adults Welcome' theme…
LEGO Creator Expert Police Station 10278
January 1st is always an eagerly anticipated time of year for the LEGO fan community, in particular those who have invested in the Creator modular theme. This year we have the Police Station to look forward to and fans were quick to grab their set as orders are currently on back order [like many popular sets]. The Police building is sandwiched between a strategically placed donut shop and a suspicious laundrette. The set provides plenty of fun details to explore and play with. If you have already invested in the modular theme then this is probably a must buy for you. This set could be a great introduction to the theme but personally I would start with the Assembly Square, if you can find one, as for just £10 extra you get a much better price per piece ratio with the set containing a massive 4002 pieces.
Take a look at the LEGO Creator Expert Police Station set here. Let us know what you think.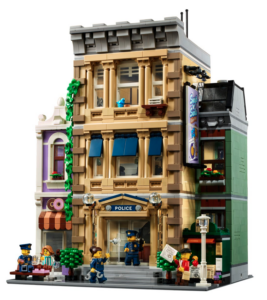 LEGO Ninjago City Gardens 71741
LEGO celebrates the 10 year anniversary of the popular Ninjago theme by realising this whopping 5685 piece set. The Ninjago City Gardens is incredibly impressive, from the pallette of colours to the intricate details this set is a must have for fans of the theme. In fact since the arrival of the Ninjago City set it seems that adult fans have started to take note of the theme that may have previously been dismissed. Certainly at the price point of £274.99 the set is clearly aimed at either the super fans of Ninjago or the adult market.
Fans who already have the Ninjago City and Ninjago docks set will be quickly planning where they are going to fit this set in at home. Personally I am seriously regretting not purchasing Ninjago City when it was available.
Take a look at the LEGO Ninjago City Gardens set and what it includes here but be warned if you are weak willed then maybe give it a miss as you will almost certainly want to add this to your wish list.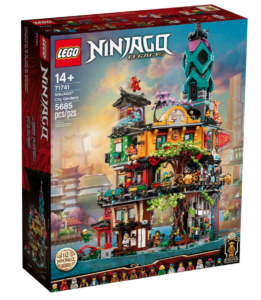 LEGO Botanical Collection
LEGO never ceases to amaze us with the diverse range of themes that they continue to introduce but I think this is the most surprising, the introduction of the LEGO Botanical Collection. These are the sets we never knew we needed until LEGO teased us with the photos of the artistic LEGO Creator Flower Bouquet – 10280 set. The bouquet at first glance does look precariously fragile but I am sure it is designed to a high standard of sturdiness. With Valentine's Day fast approaching this promises to be a great gift, who wants fresh cut flowers anyway?! These will last a lifetime but be prepared for some delicate dusting sessions as the months pass.
If you are interested in a more understated look then why not check out the LEGO Creator Expert Bonsai Tree – 10281 this set would be sure to add interest to any room. What I like most about this set is the fact it has interchangeable coloured leaves to represent the different seasons. The possibilities are plentiful with this set as you can shape the tree into any shape your imagination can muster up. The price of £44.99 seems reasonable for a Bonsai Tree that you don't have to wait a lifetime to grow!
Take a look at the LEGO Botanical Collection here.
Thank you for reading and we will continue to keep you updated with LEGO news and new releases. I have a feeling there will be plenty of fantastic LEGO sets on the horizon this year, whether we can purchase them all is a different matter.
Happy Building!